Description
<Chinese New year>
DHL is off from  20/01/23 ~ 31/01/23. start shipping on 01/02/23.
3G-SDI /HD-SDI  to UVC !!!!
Driver free for MAC and windows
compatible for broadcasting /video conference software
(OBS Wirecast twitch ustream VMIX skype ....)
SDI camera  livestreaming with android phone to facebook live
(Not all of android phone can let it work!)
compatible list link
Work on Raspberry Pi 2 / Pi 3

| | |
| --- | --- |
| Raspberry pi 3 model b | Raspberry pi 2 model b |
| | |
Product spec
1. Driver free (USB Video Class) UVC for any OS (windows XP、Vista、win7, win8, MAC OS)
2.Works on  LINUX /Android if UVC driver has been developed in your embedded OS
(If you can let usb uvc webcam work on embedded os, FEBON188 UVC grabber will also work)
3. Compatible for windows Directshow.
4.Play & Plug with USB Video Class for USB 2.0
5.HDMI source inpt  DO NOT support HDCP eg: SONY PS3 , Blueray
6. UVC / UAC    UVC video : HD TV CAM or video device
                            UAC audio: HD TV CAM or audio device
7.Video latency: 0.2-0.25sec
8.hdmi  resolution INPUT resolution / UVC OUTPUT resolution
  All input resolution scale down /up into only one 1280x720 uvc resolution 
( SDI input 1920X1080i   is not recommend)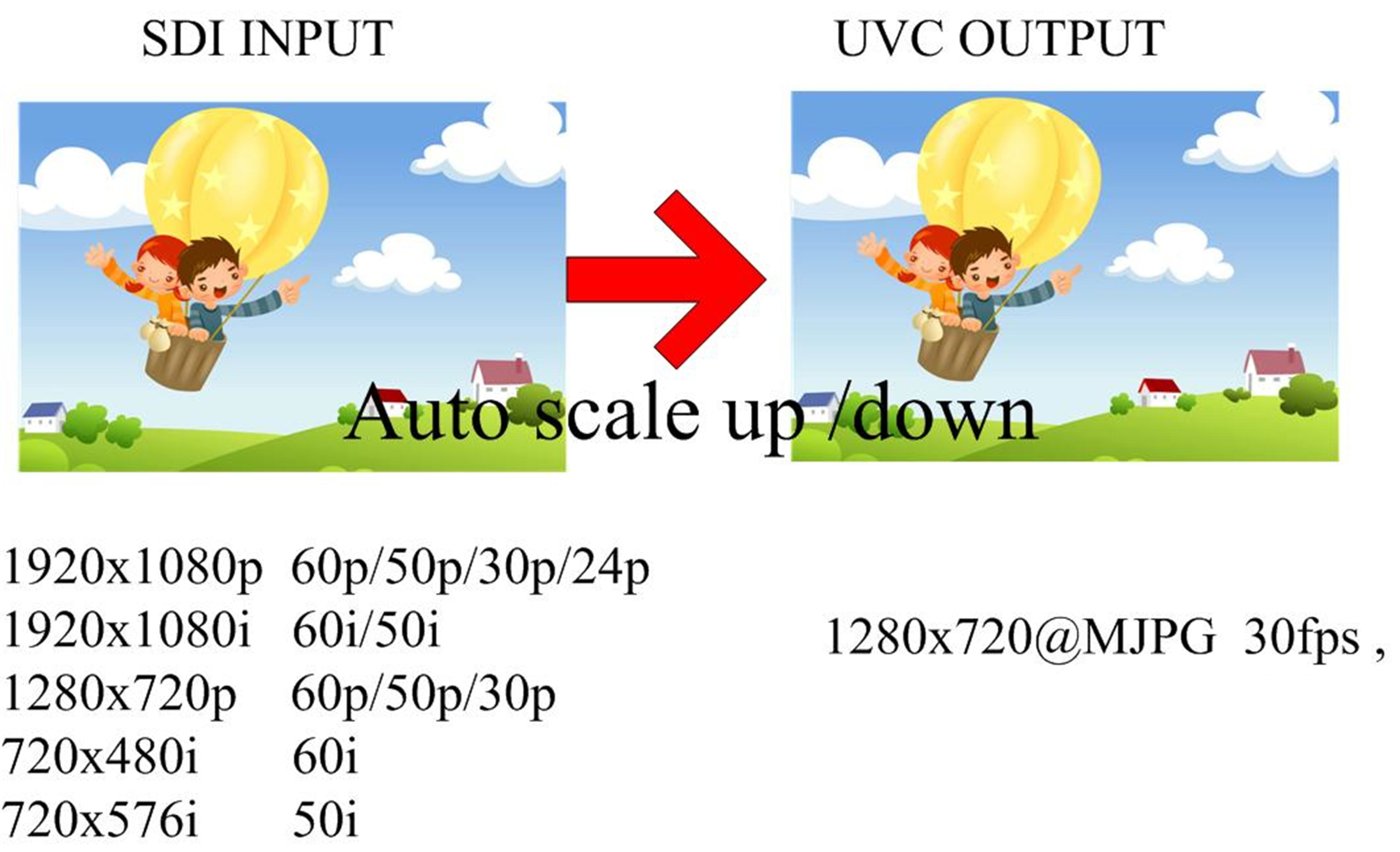 audio setting

WINDOWS / MAC:
Usually, hdmi output of camcorder is 48khz
When you plug the hdmi grabber card, the pc audio sampling rate must be equal hdmi
    If not, the audio tone will be high or be low or with noise.
   WINDOWS:audio manger>reocrd->hd tv cam->advance->try first  sampling rate 48khz
use app camerafi live will have good audio